Multipage PDF
With our new multipage PDF feature you can now upload a story, multipage worksheet, chapter from a book, or practice assessment for your students to scroll through while working. As seen below the feature works the exact same as before, only now allowing for multiple pages of the PDF.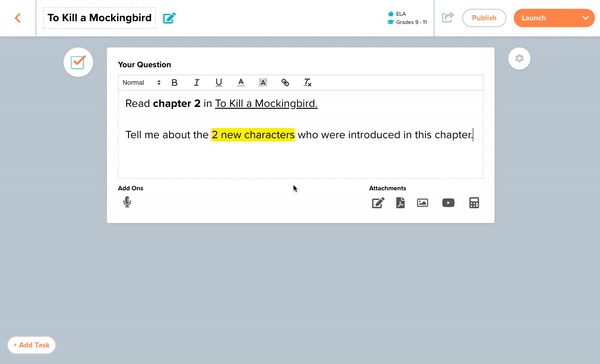 How do I duplicate a lesson?
In order to duplicate a lesson start by clicking the kabob (three vertical dots) in the left corner of a lesson.
Then click duplicate and you can quickly make a new copy of the task or lesson.
Once created, rename for a new period or add subject/tasks to customize for your next use!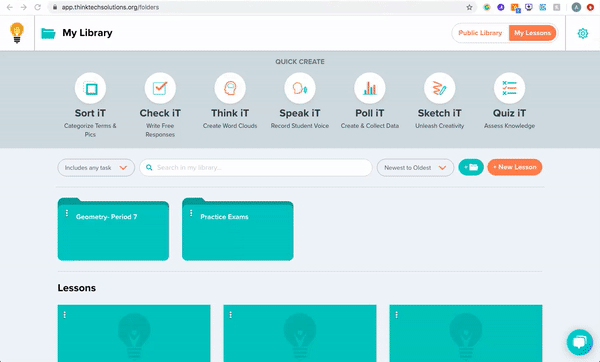 How do I create a folder?
Our foldering system works similarly to a Google Drive experience giving teachers the power to build and nest folders as they see fit.
For example, organize by Unit, Topic, or Period in order to efficiently access your tasks and lessons.
To create a folder:
Start by logging in to your THiNKtech account as a teacher.
Next, select the blue folder labeled "Your First Folder" on the right side of your screen.
After naming the folder you can upload existing tasks or lessons to a folder, or create new ones right from the folder you're in!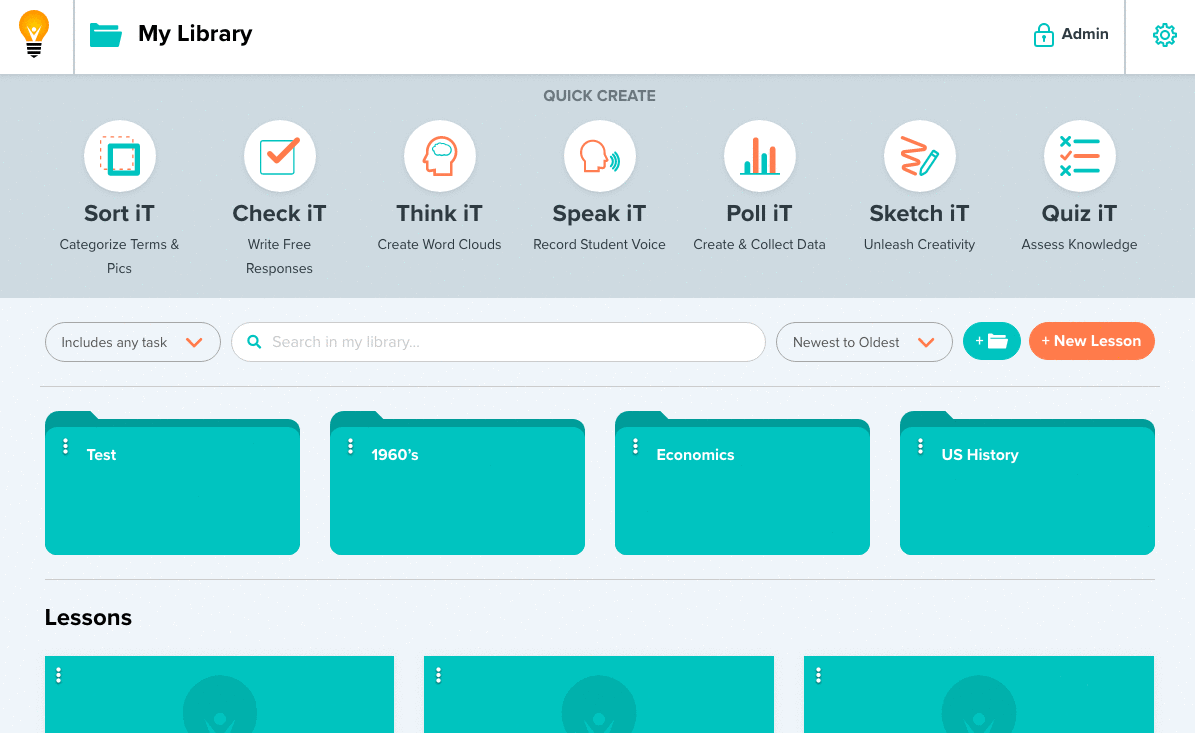 How do I share a lesson?
You can share your lessons with a co-worker in the form of a Build iT. Lessons can only be shared amongst users in your organization (district).
Once you've created your Built iT, an arrow in the upper right corner of the lesson can be used to share your work.
Next, simply type the email of the person you'd like to share with and click "Share Lesson".
Once a lesson is shared your colleagues have the ability to launch the lesson as is, add tasks, or delete tasks in order to utilize how they see fit.
What are pause points?
Control the pace of the class by adding pause points to your lesson using the button in the bottom left corner of your screen. This stops the class once they've reached a certain point and they can't continue until you've opened the pause point allowing everyone to stay on pace and for you to stop and incorporate conversation in your lessons.
When a student is working on the lesson you must unlock the pause point to allow them to move on to the next task. This can be done by clicking on the pause point on the left side of your screen. You will then be prompted to open the pause point and your student can move on with the lesson.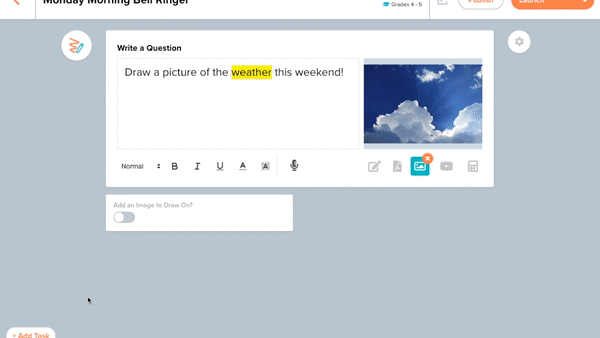 Adding audio dictation:
Leave audio recordings of readings, directions, notes, or areas to focus on with our audio dictation tool.
Once you've created a task select the microphone button to record your voice and attach it to the lesson.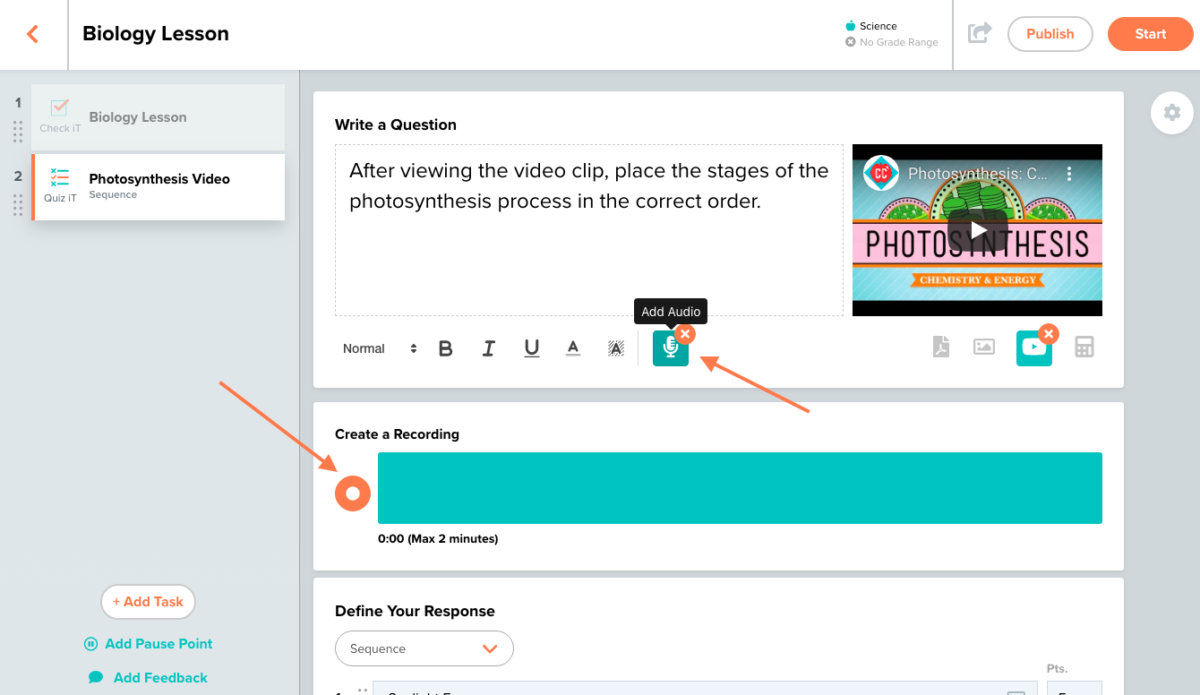 Adding a link:
You can now embed a link from other websites right in your lesson. THiNKtech is now the perfect platform to incorporate other activities you've created in different digital applications. Now stand alone activities in tools like Castle Learning, FlipGrid, Kahoot, EdPuzzle and more can become part of your lesson!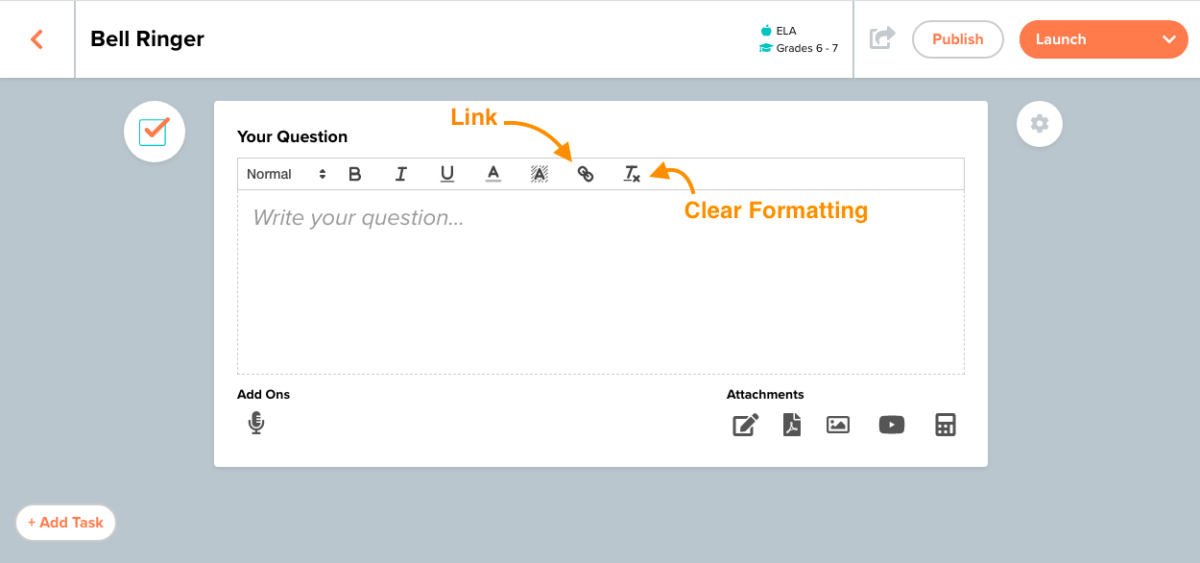 Google classroom integration:
Now you can integrate your THiNKtech lessons right into Google Classroom. Once you launch your lesson, click on the Google Classroom icon and invite your call roster by posting your assignment.